Flipside Fresh believes in giving back to the community. We like to call it "Flipping it Forward." Take a look at how Pam Pickens did just that in Haiti this past February. Pam is avid wakeboarder, longboard skateboarder, and just recently certified Snowboarding Instructor. She took time out of her snowboarding schedule Feb 20-25th, and went to Haiti to help out in a very interesting way. Find out what she was doing with Solar Puffs below...

Name: Pamela Allison Pickens

Nickname: Pam

Hometown: NYC

Residing: NYC

What were you doing in Haiti? I was on a mission trip with the Global Syndicate Haiti Project. We were delivering solar puffs. We gave demonstration lamps to certain areas of the country to test out for 90 days. Our goal is to get 10,000 prepared for mass distribution later this year.
What are Solar Puffs?
A Solar Puff is a patented solar light product that was invented by Alice Min Soo Chun, the Co- Founder of FAARM. The Solar Puff folds and is easily inflatable with one puff of air, hence the name Solar Puff. Designed to provide safe and high-quality lighting options for outdoor and in-door use. It is bright enough to read by and work by.
What are the benefits of having a Solar Puff?
A quarter of humanity lives with out electricity. Most low-income families use kerosene-based lamps, which can contribute to lung disease, respiratory problems, and eye-related issues. Having light is vital to safety for women and children in areas with out a grid. The Solar Puff provides light for 8-10 hours after 4-5 hours of charging in direct sunlight, and can light up to 100 square feet. It is lightweight and easily transported in a purse or pocket, and can be easily packed by the hundreds for emergency relief situations. Also, the Solar Puff provides considerable savings over the continuous purchase of kerosene and batteries for flashlights. After the initial purchase of the Solar Puff, lighting is free for a whole year. Here is a link to a video to explain the project more in depth: Solar Puff Promo

Who was the coordinator of this trip? Jacque Philippe Piviger, of the Global Syndicate Haiti Project.
What was the best part of the trip? We were on our way to Jacmel from Port-au-Prince, and we wanted to stop at a waterfall along the way. We were on a bus and it couldn't make it down the street because of the damage from the earthquake. We decided to get out and walk. Some of locals came out and started walking with us. Many of the children didn't have appropriate clothes or shoes. We walked, held hands, and sang songs. They were all very friendly and affectionate. One of the children I saw had shoes that only covered half of the bottom of his feet. I gave him a pair of my flip-flops, and they just so happen to be the perfect fit. It made my day being able to provide something much needed to a child.
How can people get involved? Go to: The Global Syndicate Project Haiti and donate $10, which will pay for one solar puff to be made for families in Haiti. Also take a look at The Solar Puff Project on Faarm.org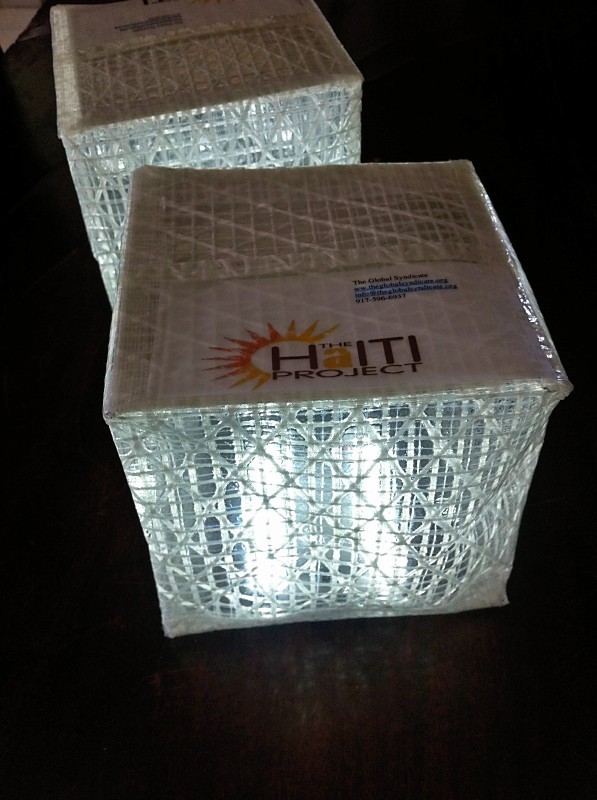 We are very happy that you took time out of your busy schedule to do something as FRESH as this! Keep shining Pam! And of course you just made our FRESH LIST!!!
References: www.faarm.org, www.globalsyndicate.org